Our Story
     Chris Reed, and Bonnie Reed first started playing together in the cover band "Beneath the Wheel." After the band's separation, the three began playing acoustic gigs and writing songs that reflected their love of  Americana and folk music. Back Porch Orchestra has since steadily evolved to become a popular wedding and corporate event band, playing over 70 shows annually for both local crowds within the Piedmont Triad as well as audiences in South Carolina, Georgia, Tennessee, Kentucky, Virginia, and Maryland. BPO has experienced several different lineups over the years before arriving at its most current arrangement. While the most common lineup of BPO comes as a five-piece, featuring a steady rhythm section, two electric guitars and four lead vocalists, the band also comes in iterations of 3 acoustic guitarists and vocalists, or a 4 piece Grateful Dead-inspired jam band. No matter the arrangement, it's always a fun show. 
     Bandleader and guitarist Chris Reed grew up on a steady diet of country, blues, rock, and jazz music. He's played in country, blues, and rock bands since the age of 18. The guitar is just a starting point for Chris - he is also proficient on the dobro, mandolin, and banjo, and teaches lessons on all four instruments. When he's not playing shows or teaching, he could be found playing at an open bluegrass jam, practicing, or supporting students at local open mics. Back Porch Orchestra is Chris's brainchild and he has done an exceptional job at leading the band down a successful path. Chris is a master of his craft not only in a musical context, but a professional one as well; he is an excellent musical coordinator regardless of the event, as he has played them all before. All of these qualities are what help make Chris one of the most reliable, talented, and dedicated bandleaders around. 
     Since the very first time Bonnie Reed sang in front of an audience, as a member of her mother's church at 10 years old, she has been flooring audiences with a voice that is a melting pot of the great vocalists by which she was influenced. Bonnie captures everyone's attention as soon as she graces the stage. Everyone knows Patsy Cline, Stevie Nicks, or Tina Turner's voice when they hear it - Bonnie's voice is no different. She can sing anything from classic hits of yesterday to the popular country and pop tunes of today with unmatched precision. Outside of BPO, Bonnie owns and operates a cleaning business and is a loving mother to two boys. Bonnie and Chris are married, and have been playing acoustic shows together for over 12 years. Their understanding of each other's musical nature on a deep level makes each performance extra harmonious - it's never a bad time when Bonnie and Chris are playing a show together.
    After playing on-and-off with BPO during the first half of 2008, Chris's brother, Scott Reed, officially joined the band. Scott spent several years as a studio bassist in Nashville. He now serves as a police officer and is also an extremely gifted luthier, frequently playing his own handmade basses during shows. It is rare when one finds a bass player as talented as Scott. Most of the time, he plays with a light touch, but on the rare occasion Scott gets flashy, the audience is left blown away. His understanding of music is impressive to say the least, and his bass-playing is a perfect complement to Back Porch Orchestra's sound.
    Originally from New York, Tony Testa started playing drums at 5 years old. Over the years Tony has studied and performed across multiple genre's and continues expanding his fusion-based drum style. He has performed in notable venues such as Berkley School of Music, Filmore East, Filmore West, San Diego House of Blues, and the Savannah Jazz Festival. Tony's highest acclaim is being Grammy recognized for his Jazz Fusion recordings with Undercover Jazz.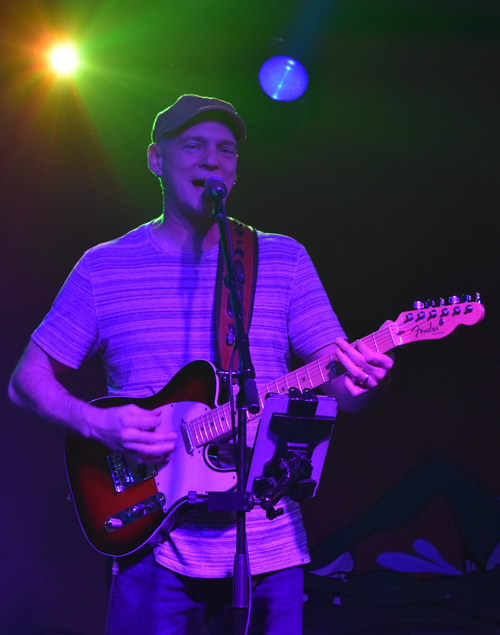 Guitars - 
Fender American Deluxe Telecaster
Fender American Standard Telecaster
1996 Gibson SG Standard (cherry)
Martin Acoustic
Fender Standard Stratocaster (w/ Floyd Rose)
Amp - 
Fender Bluesbreaker 15 Watt
Pedals -
Pedaltrain board
Line 6 G30 Wireless
Boss MS-3 Looper/Multi-FX
Wampler Pinnacle
Wampler Velvet Fuzz
JHS Morning Glory Overdrive
If there were one guitar to define Chris Reed, it would be a Fender Telecaster. Chris raves about the versatility of these guitars; armed with a Seymour Duncan Hot Rails in the bridge position of his main axe and a reliable small tube combo, Mr. Reed never fails to deliver searing hot licks through great tone.


Drums -
Yamaha Absolute Kit

DW Performance Series Maple in Ebony Laquer Finish
Shells:

22x18 Kick

16x14 Tom  

14x12 Tom  

12x9 Tom  

10x8 Tom  
Snares: 

14x5.5 Ludwig Acrolite Snare

14x5.5 Pearl Poplar Snare

13 x 4 Mapex Piccolo Snare

14x5.5 Yamaha Steel Snare 

14x5 LP Brass Snare 
14x6.5 DW Maple Snare 
14x6.5 Pork Pie Black Brass 
Cymbals -
Hi-Hats:

14" Sabian AA Regular Hats
14" Sabian HHX Click Hats

Rides:

21" Sabian Raw Bell Dry Ride
22" Dream Energy Ride

Crashes/Other:

10" Sabian AAX Air Splash
16" Sabian AA Medium Thin Crash
16" Sabian AA Metal-X Crash
18" Sabian HHX X-plosion Crash
18" Sabian AAX Dark Crash
18" Sabian HHX Evolution Crash
19" Sabian AA Holy China
Pedals/Hardware/Mics- 
Pedals:

DW 9000 Double Pedals
DW 5000 Hi-Hat Stand

Hardware:

Gibraltar Cymbal Stands
Gibraltar Rack
Various Gibraltar Stands / Components

Monitors:

JH Audio JH5 Custom Molded In-Ear Monitors

Microphones:

Sennheiser E604 Tom Mics
Shure SM57 Dynamic Mic
Shure Beta 52A Kick Mic
Rode NT-5  Matched Pair Overheads
Heads/Sticks -  
Remo heads
Vic Firth Sticks
Sampling -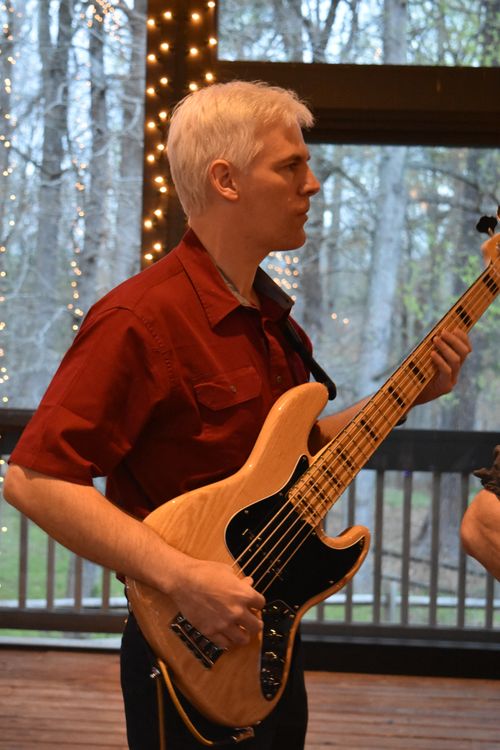 Basses:
Scott plays Fodera basses primarily, but he has a wide range of instruments, many of which is has built himself under his brand, ScoMel Basses. He is an avid fan of 5-strings, and alternates between the Foderas, ScoMel, and Fender American Deluxe Jazz Basses each show.
Amps/Cab -
Aguilar ToneHammer 500 Head
Aguilar AG 700 Head
Aguilar SL410X Cab